Graduation Parties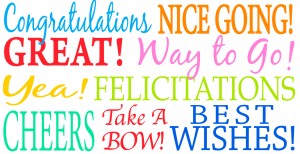 Congratulations class of 2016!!! You have just graduated high school, now what are you going to do?
      PARTY DUH!     
Here are just some of the essentials you may need to throw the perfect graduation bash!
Tents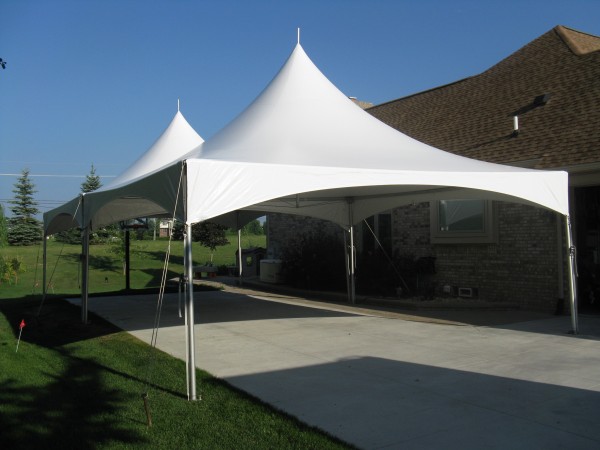 If you don't need a tent and plan to use your garage, please skip to tables and chairs!
There are two types of tents you may need, Pole Tents & Frame Tents.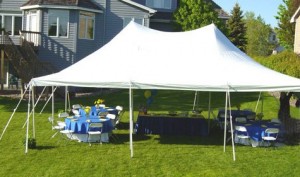 Pole Tents are ideal for your front or back yard or anywhere else you may need a tent that can be staked all the way around the perimeter of the tent. They will have at least one or two center pole in the middle of the tent that touch the ground. Also they are less expensive than a Frame Tent.
Now you're thinking, Gee I wanted a tent to go over my patio/driveway and I CANNOT stake into my patio/driveway! Are you kidding me?! Not to worry, this is where our Frame Tents come in handy!
Frame Tents are ideal for any space really, but work perfectly over areas that cannot have any damage to the ground or staking in the ground.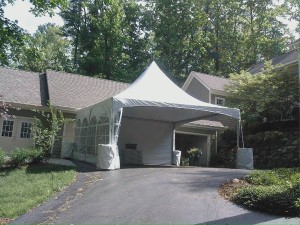 They are free-standing structures that have very few side poles and don't have any obstacles in the center to contend with. Idealing we would like to stake these but actually they can be installed using weights. In other words, no holes in your patio/driveway! Hurray! 
All our tents have side wall options for an extra fee but they all include set up, take down, and the first 15 miles of delivery. 
Tables & Chairs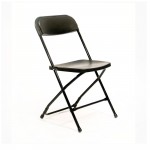 Now that we have your party covered, it's time to think about tables and chairs! We will bring your tables, chairs, and anything else you are renting out with the tent for no extra charge. If you don't need a tent we can deliver for an extra fee or we are very flexible with our Customer Pick Up schedule. 
Folding chairs are the way to go with any large party, they are easy to move and great to sit on! Win, win!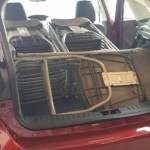 Our Tables also fold flat for easy mobility. 

Picnic Tables,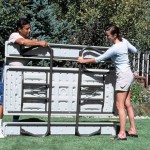 don't forget these guys! So easy, and you don't have to worry about chairs! They fold completely flat for, again easy mobility and less hassle. 
Linens & Table Covers
Okay, tent check, tables check, chair check… now you need something to cover our tables. Although we love our tables because they are versatile, lightweight, and folding; they have an unfinished wood top, so they will need to be covered. Lucky for you, we have plenty of Linens and other options to cover those tables and match your awesome decor theme!
Disposable Table Covers are great on the wallet and come in a variety of colors! We carry most any color in our plastic 54″ x 108″ covers or 84″ Round covers. I know what your thinking, "I don't mind plastic, but the wind will blow my covers away!" Drop the STAPLE GUN NOW! You need our Kwik
Covers!! They have an elastic band built into the cover to keep them tight on your tables and we have them in all sizes! They are still an inexpensive option without all the work. Order ahead because we tend to run low come graduation party season!
Table Linens are really the best option to cover your tables.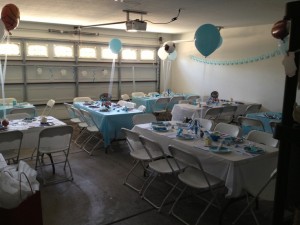 They look elegant and can dress up any occasion. We have a variety of colors, fabrics, and patterns that will fit your needs. For even more flare we also carry linen Napkins, table runners and sashes to really step up your decor! Just call us for a full list of what we carry (too many to type!).
Concessions
Now for the fun stuff! What to serve?! We have a variety of fun Concession equipment for rent to make this gathering a PARTY! These items do book up fast so make sure you reserve yours today! 
Once you have what you need booked, try to think outside the box to really give it some sizzle.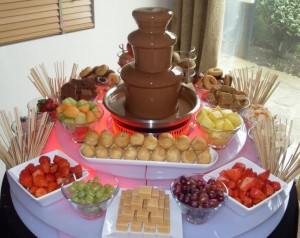 Here is an example of our Chocolate fountain used as an awesome centerpiece. FYI fruit, graham crackers, pretzels, doughnuts, cookies, marshmallows, etc. are just some of the items that go great with chocolate fondue.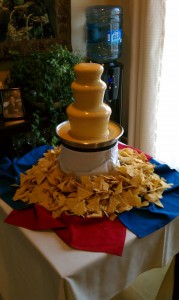 Don't forget these machines can also be used for Nacho Cheese to really up the ante! Go big or go home!  
Of Course our Nacho Cheese Pump is perfect for keeping all that cheese from becoming a huge mess. By the way, this item is a must for walking tacos/tacos in a bag! Just pop the entire can of nacho cheese into the machine put the pump in and it's good to go!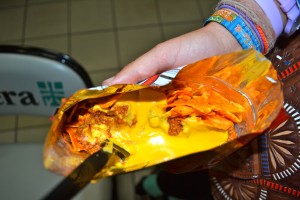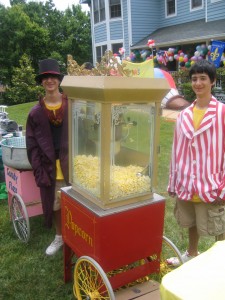 Popcorn Machines & Cotton Candy Machines are always a classic that everybody will love!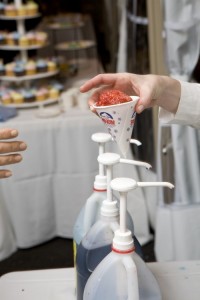 Snow Cones are always refreshings options. We have a variety of flavors so you can customize your treats! 
We. Have. Soft serve ice cream.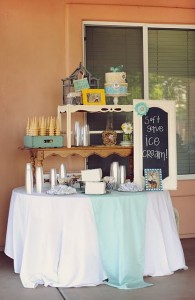 Our Soft Serve Machine is a single 110 unit. We have vanilla & chocolate flavors that come in 6 lb bags. Each bag serves about 120 Half Cup Scoops. Please DO NOT use solo cups! They are too big to keep up with a crowd. We recommend the small punch cups or of course ice cream cones! On average graduation parties usually go through 3-6 bags.  How cute is this set up?!
Another fun idea is a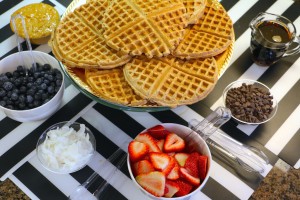 Waffle bar! Especially if your party is a morning one. Your guests will not only be impressed but full! We have waffle makers that are duel sided to maximize your cooking time. Have fun with it and have a whole bunch of toppings! Or serve it with fried chicken…your choice!
Check out our Concession page for more fun rentals!
Catering Equipment & Food Prep
Here is a list of basics that you may need to serve your unique crowd:
Roasters
Chafing Dishes
Juice Dispensors
Super Servers
150qt Coolers
Salad Bar
Freezers
Grills
Entertainment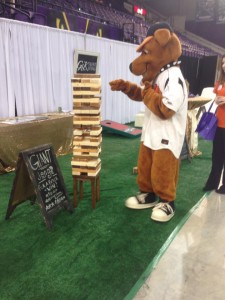 Now you have everything except the entertainment. I know, do you really need entertainment? YES. If you want a rockin' party and keep the kids safe. Give them something to do! Our new Yard Games are so perfect and easy for a graduation party. 
For those of you who want even more, we do rent Inflatables or as we like to call them, "babysitters." They are popular and book up fast! Who doesn't love jumping?!